About Volksbolts
Volksbolts Is A Family Business That Originated From An Idea In California In 2004 And Has Since Grown Into The Market Leading Automotive Fasteners And Design Service Serving The Air-Cooled And Water-Cooled Volkswagen Scene Here In The U.K. And Abroad.
We Use Our Engineering Experience And O.E.M. Data To Specify Or Design Parts. &nbsp We Then Scour The Supply Chains For "Best In Class" Items. &nbsp All Of The Hard Work Is Done For You. &nbsp Simply Buy And Use Our Parts Knowing That You Have The Quality Items That You Need When You Need Them.
We Have Years Of Our Own Workshop &amp Restoration Experience And Have Cross Referenced Against Original Equipment Manufacturers (OEM) Data So You Can Be Assured That You Have Correct Fitting Parts For Your Own Restoration And Maintenance Activities.
Where Possible We Improve On The Original Specifications. &nbsp Improvements Are Made On A Rolling Basis Whenever The Opportunity Presents Itself.
We Have Professional Engineering Roots In Aerospace Research &amp Development So You Can Be Assured That Our Products Have Been Engineered Into Their Applications With Proper Thought And Consideration.
Sales Are Principally Via EBay, With Our Team Trading At Some Of The Better Classic Car Shows.
Our eBay Store Has Over FOURTEEN THOUSAND Happy Customers Thus Far.!
Back In 2006 We Featured In The T.V. Program "Beetle Crisis" Where They Restored A 1302 Beetle.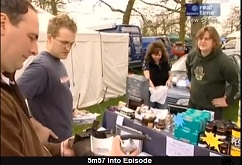 Watch The Episode On YouTube Below