Petrol has changed over the years : Do you remember filling up with BS4040 Leaded Four-Star.? (4* = Approx 98 RON) &nbsp We now have 95 RON (3* equivalent) un-Leaded with there being some 97/98 RON (4* equivalent) 'Super' Petrols.

The majority of modern (year 2015) Petrols are blends of classical oil Industry derived Petrols and Bio-Ethanols. &nbsp In the U.K. up to 5% Of Petrol is Bio-Ethanol - As mandated by environmental Laws. &nbsp This is referred to as "E5" blend (Typically 95RON).
In the United States the content is up to 10% Bio-Ethanol in places (E10 blend) with Laws now being in place to permit the use of 15% Bio-Ethanol (E15 Blend).
E85 and E100 are available in some places

There are other additives in modern Petrols such as Oxygenators to promote cleaner burning; MTBE (Methyl-Tertiary-Butyl-Ether) being a well known additive in the USA.

Ethanol free Petrol (Zero Ethanol "E0") can still be found in the U.K. if you know where to look for it : These are exclusivly Premium grades of 98/99 RON. &nbsp 100LL "AvGas" is Ethanol free but at risk of discontinuance

The molecular strucutre of Ethanol allows the fuel to burn more completely and therefore give cleaner emissions; So its use in fuel has benefits for air quality. &nbsp NOx, CO, HC and particulates are reduced by up to 30% which is great for reducing SMOG.

Ethanol has a high Octane value (109 RON) but a low Energy value. &nbsp This makes it compatible with classic Petrol but means you have to chuck more fuel in for the same effect. &nbsp You can increase compression ratio (CR) a little to help offset the loss in MPG due to the higer Octane rating of Ethanol. &nbsp The ideal Air/Fuel ratio for old fashioned 4* Petrol is 15:1 whilst with Bio-Ethanol it is 10:1 by weight - So some jetting adjustments may be needed to get the best results if you have Carburettors. &nbsp Modern computer controlled Fuel Injection Systems will automatically adjust based on their own sensor readings.
Older fuel injection systems such as Bosch K-Jet may require elctronics hardware changes to cater for the use of these new fuels.

Tail-pipe emissions of CO2 decrease due to the lower Carbon-to-Hydrogen ratio of Ethanols

Unfortunately, these Ethanol &amp Oxygenator additions to Petrol are chemically aggressive and have a tendancy to infiltrate and attack the Rubber compounds historically used to make fuel hosing, 'O' rings and accelerator pump diaphragms. &nbsp These rubber components perish, swell and crack under the influence of Ethanol and ultimateley fail in their function.
Weeping fuel lines can cause FIRES.!

There is a lot of anecdotal evidence on Internet Forums and increasing quantities of formal Technical Reports supporting this viewpoint; &nbsp In both Automotive and Light Aviation user groups.

A report rrom QinetiQ (The old Defence Evaluation &amp Research Agency, DERA) has been published highlighting these concerns in relation to Light Aviation where MoGas (ordinary Petrol Station Petrol) is used

Click here to read the QinetiQ report
In terms of selecting an appropriate fuel hose for our classic cars we need to understand where the competing Standards of commercial fuel hose come from:

ISO - International Standards Organision
DIN - Deutsches Institut Fur Normung (German Institute For Standaristion)
SAE - Society Of Automotive Engineeers
Mil-Std - American Military Standards
FAR - Federal Aviation Regulations
As an Automotive specific standards body exists then we automatically have to make sure products conform to their standards for sale into the Automotive sector - this cover issues of liability. &nbsp Though we could later cross-reference the other Standards to cross-sell into other fields such as Marine and General Aviation (MoGas Users). &nbsp There is usually a high degree of overlap between Standards from these differing sectors as they do feed off each other somewhat.
The specific SAE Standard for fuel conveying hoses is SAE J30, which can be broken down into its individual sub-regulations as follows; &nbsp The full SAE J30 specification can be downloaded by clicking here
&nbsp
Title
&nbsp Permitivity &nbsp
&nbsp Working Pressure &nbsp
Notes
R2
Synthetic Rubber Tube And Cover Hose
N/A
N/A
Oil &amp Ozone Resistant
R3
Braided Reinforced Rubber Hose
N/A
N/A
Petrol, Oil &amp Water Resistant
R5
Wire Reinforced Rubber Hose
N/A
N/A
Oil & Ozone Resistant
R6
Low Pressure Synthetic Rubber Hose
600&nbspg/m²/day
50 PSI
Inner Resistant To Petrol, Diesel, Oil Or Vapours
Ozone & Heat Resistant Outer
R7
Low Pressure Synthetic Rubber Hose
550 g/m²/day
50 PSI
Inner Resistant To Petrol, Diesel, Oil Or Vapours
Ozone & Heat Resistant Outer
R8
Low Pressure Synthetic Rubber Hose
200 g/m²/day
50 PSI
Inner Resistant To Petrol, Diesel, Oil Or Vapours
Ozone & Heat Resistant Outer
R9
Fuel Injection Synthetic Rubber Hose
15 g/m²/day
100 PSI
Inner Resistant To Chemical Attack, Swelling, And Permeation By Gasoline, Oxidized ("Sour") Gasoline, Ethanol Extended Gasoline, Diesel Fuel, And Oil Or Lubricants Or Vapours.
Oil, Ozone & Heat Resistant Outer
R10
Low Pressure In-Tank (Submersed) Hose
N/A
N/A
&nbsp
R11
Low Permeation Fuel Fill, Vent, and Vapor Hose
100 g/m²/day
N/A
Inner Resistant To Petrol, Diesel, Oil Or Vapours
Ozone & Heat Resistant Outer
R12
Low Permeation Fuel Feed &amp Return Hose
100 g/m²/day
145 PSI
&nbsp
R13
Diesel / Bio-Disesl Hose
N/A
N/A
Under Development
R14
Low Pressure Hose (Small Engines)
15 g/m²/day
50 PSI
Other Characteristics As Per R9 Spec.
The general evolution of the hose Standard can be seen; Higher numbers representing the latest generation of Standard. &nbsp Though the gradings are not entirely linear; R12 is not necessarily better than an R10 grade as the two hose standards cover different application zones.
The R6/7/8 Standards represent the drive to cut vapour emissions on carburatted cars in the 1980s &amp 1990s, with the R9 Standard building on this to cater for the introduction of fuel injection and bio-enhanced fuels.

It can be seen that R9 fuel hose that has been DESIGNED to work with modern fuels has less than 3% of the permitivity of 1980s &amp 1990s fuel hose. &nbsp It even out performs the "A1" (ISO 7840) hosing mandated for use in the MARINE environment, where they are hugely stringent about fire-safety.! (See graph below)

The R6 & R12 data-points being from a reputable manufacturers data sheets; This shows that manufacturers try to EXCEED the Standard where possible.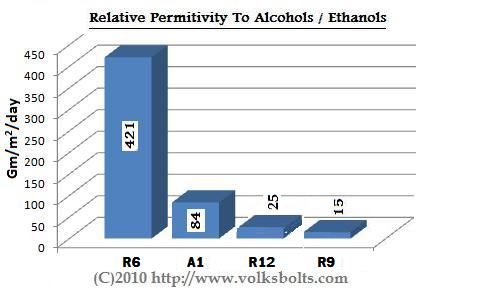 The fuel injection grades of fuel hose (R9 & R12) are backward compatible with low-pressure carburatted cars. &nbsp This and the exceptionally resistance to chemical attack, swelling and permeation of the R9 grade makes this grade ideal for use in the classic car sector.
The high permitivity of older fuel hoses means that as the bio-Ethanol content of Petrol rises that the older grades of fuel hosing will rot/perish/crack/weep at an increasingly quickening rate from the point of installation. This is because the escaping vapours 'wash out' the synthetic rubber compounds that help keep the fuel hose supple - the ensuing brittleness enables cracks to develop in the hose.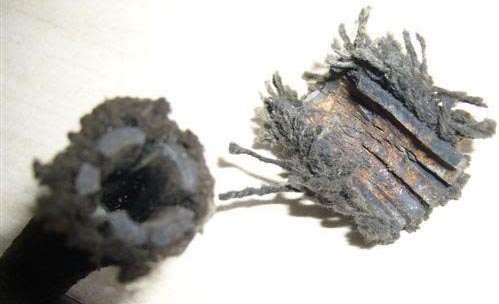 Picture of perished hose end courtesy of "coopersim" on the Volkszone forum
The Civil Aviation Authority (CAA) in the United Kingdom has issued a Mandatory Permit Directive (MPD) on Trelleborg "Hydro K" fuel hoses, mandating an elevated level of service checks on this type of fuel hose due to evidence of perishing in the above manner.
Click here to read the CAA MPD
Is it worth putting your (expensive) Camper Van at risk of catching fire for the sake of some fuel hosing..?
The SAE J30 R9 hosing is WELL WORTH the investment for the peace of mind it gives.